We are Blue Sky Paragliding
Somos una empresa colombiana ubicada en el corregimiento de San Félix, en el municipio de Bello.
We were born with the dream of making people experience the emotion of being able to fly and feel free, so we offer professional and safe paragliding flights.
Pilot and instructor
Dairo Alberto Penagos Ochoa
My achievements in paragliding began in 2011 when I started the paragliding profession (not in tandem or double modality)
I competed in the "Copa de Occidente" at Sopetrán in 2013 and at "Accuracy Medellín" in 2015, and the same year, I obtained my license to perform Tandem (double people) flights. I stand out for my willingness to provide my clients with security and confidence to help them have an unforgettable flight experience full of natural landscapes. All this is to make your experience pleasant and admirable.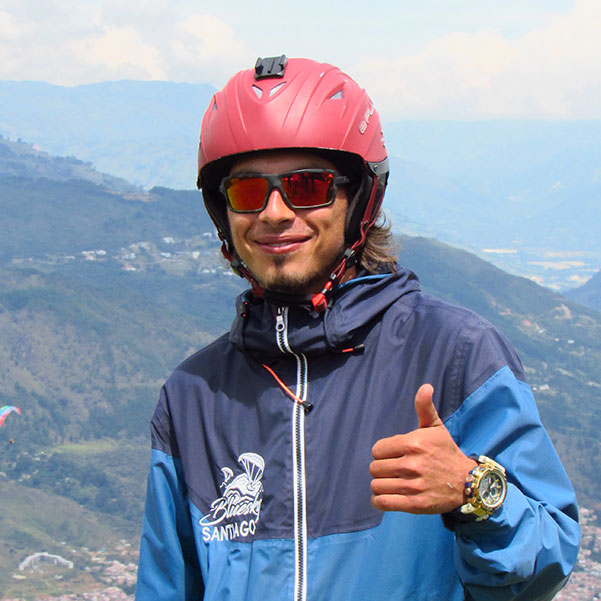 Pilot and instructor
Santiago Cifuentes García
I was born on February 28, 1999, in San Pedro de Los Milagros, which is near the village of San Félix, where I have lived all my life. There, in san Félix, I discovered paragliding, so I started my first classes with relatives and friends when I was just eight. Soon, I was able to do my first flight at the age of 11. From then on, my life has been an adventure. I started my training as a professional paraglider in which I have given my best to be better every single day.
In 2014 I went to my first Accuracy competition on the hill of the "tres cruces" after that, I participated in several competitions, and I have always stood out for being one of the best professional pilots. In 2020 I got my tandem pilot license. When I was 23, I had the privilege of giving people wings and sharing the great experience and freedom that flying is.
Pilot and instructor
Jhon Jader Garcia Muñoz
I am a free flight tandem paragliding pilot. I was born in Medellin in 1992. I live in the village of San Félix, located in Bello.
The members of Blue Sky and my friends helped me enter the world of paragliding, and now it has been around a decade of flight experience. I have gone to many places around Colombia to practice paragliding, so I have many hours of practice which has provided me with the knowledge to give you the best experience of air life.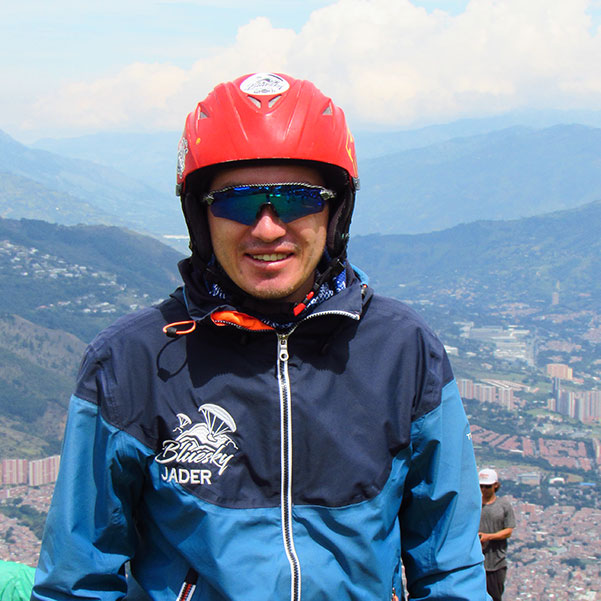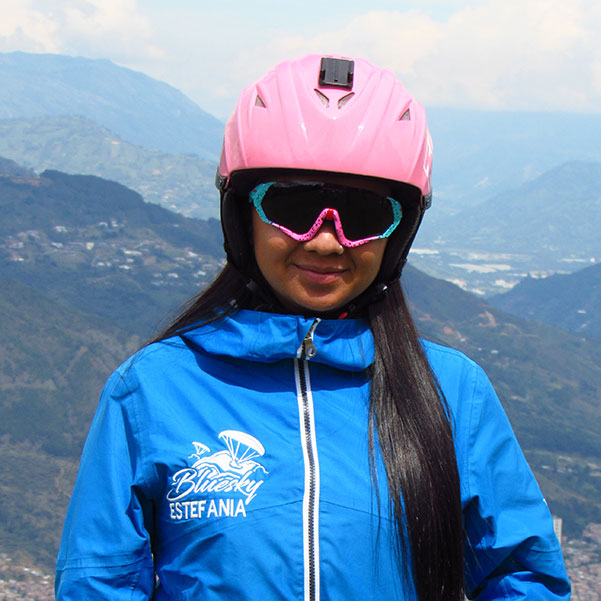 Pilot and instructor
Estefanía Montoya
I have been a paragliding pilot since 2015. I made my first flight when I was only 16 years old, and I have not stopped flying. I have participated in several precision competitions. On one occasion, I even got first place. I am part of the Colombian women's precision team. I am among the first three women on the podium. Furthermore, I have flown to more than 15 places in the country and about two places in Ecuador.
I am currently part of the Blue Sky Paragliding team as the only female tandem pilot. I am available to provide you with a magical and unique experience.
.
Pilot and instructor
Pedro A. Gutierrez
I was born on February 7, 1993, and I have been practicing paragliding since 2010, when I was only 17 years old. It all started with a group of friends who always dreamed of flying through the skies like free birds.
Throughout my journey, I have competed a couple of times in the accuracy modality, and I have also practiced some maneuvers (acrobatics), but my preference is teaching and instilling this beautiful sport in all our students.
Currently, I am part of the Blue Sky Paragliding company and I will be available and with much love to provide you with a unique experience. With me, you can live a flight full of adrenaline or a relaxing and soothing one, you decide.